These amazing Rhinestone Beads feature Asfour Brand Fine Leaded Crystals.  These are very high quality beads with thick plating.  They will turn your next creation into an amazing piece of jewelry!  Whether you choose our squaredelles, rondelles, or rounds you can count on an excellent looking bead that will really impress you!  Pictures have been enlarged to show the tremendous amount of detail.  Order in sample packs of 10 on the left or larger packs of 25 to the right.

SP = Silver-Plated  GP = Gold-Plated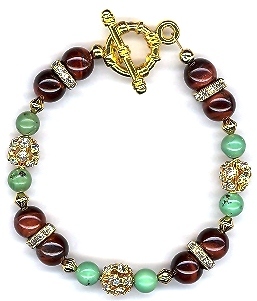 This bracelet features 8mm Red Tiger Eye with 8mm GP Squaredelles and 8mm GP Rounds.  Combined with 6mm Turquoise Stones this piece is fit for royalty!





8mm GP Rondelle w/ Clear Crystals  (Sold per Pack of 25)

8mm SP Rondelle w/ Clear Crystals  (Sold per Pack of 25)

6mm GP Rondelle w/ Clear Crystals  (Sold per Pack of 25)

6mm SP Rondelle w/ Clear Crystals  (Sold per Pack of 25)

8mm GP Squaredelle w/ Clear Crystals  (Sold per Pack of 25)

8mm SP Squaredelle w/ Clear Crystals  (Sold per Pack of 25)


8mm SP Rondelle w/ AB Crystals  (Sold per Pack of 25)


6mm SP Rondelle w/ AB Crystals  (Sold per Pack of 25)


8mm GP Rondelle w/ AB Crystals  (Sold per Pack of 25)

8mm GP Squaredelle w/ AB Crystals  (Sold per Pack of 25)





6mm GP Squaredelle w/ Clear Crystals  (Sold per Pack of 25)

6mm SP Squaredelle w/ Clear Crystals  (Sold per Pack of 25)

8mm GP Round w/ Clear Crystals  (Sold per Pack of 25)

8mm SP Round w/ Clear Crystals  (Sold per Pack of 25)


8mm SP Rondelle w/ Lt Rose Crystals  (Sold per Pack of 25)


8mm SP Rondelle w/ Emerald Crystals  (Sold per Pack of 25)


8mm SP Rondelle w/ Amethyst Crystals  (Sold per Pack of 25)


6mm SP Rondelle w/ Sky Blue Crystals  (Sold per Pack of 25)


6mm SP Rondelle w/ Lt Rose Crystals  (Sold per Pack of 25)


6mm SP Rondelle w/ Emerald Crystals  (Sold per Pack of 25)


6mm SP Rondelle w/ Amethyst Crystals  (Sold per Pack of 25)

8mm SP Rondelle w/ Red Crystals  (Sold per Pack of 25)


8mm SP Rondelle w/ Gold Crystals  (Sold per Pack of 25)


6mm SP Rondelle w/ Red Crystals  (Sold per Pack of 25)


8mm SP Rondelle w/ Sky Blue Crystals  (Sold per Pack of 25)


8mm GP Round w/ AB Crystals  (Sold per Pack of 25)

8mm SP Round w/ AB Crystals  (Sold per Pack of 25)



6mm GP Squaredelle w/ AB Crystals  (Sold per Pack of 25)

6mm SP Squaredelle w/ AB Crystals  (Sold per Pack of 25)


8mm SP Squaredelle w/ AB Crystals  (Sold per Pack of 25)

6mm GP Rondelle w/ AB Crystals  (Sold per Pack of 25)


8mm SP Rondelle w/ Caribbean Green Crystals  (Pack of 25)


6mm SP Rondelle w/ Caribbean Green Crystals  (Pack of 25)


6mm SP Rondelle w/ Deep Purple Crystals  (Pack of 25)


6mm SP Round w/ Clear Crystals  (Sold per Pack of 25)


6mm GP Round w/ Clear Crystals  (Sold per Pack of 25)