Imported Czech 12mm Fire-Polished Multifaceted Beads

12mm Fire-Polished Glass Beads are Multifaceted and Very Beautiful.  Their rich colors will leave you wanting more!  They are imported from the Czech Republic and available in sample packs of 12 beads on the left or in larger packs of 24 beads to the right.

The amazing earrings pictured to the right feature Garnet 12mm Czech Fire-Polished & 6mm Jet Black Glass Crystal Bicones.  Gunmetal Beads and Findings finish off these beautiful earrings.

Olivine 12mm Czech Fire Polished Glass (Sold per 24 Pack)


Gold 12mm Czech Fire Polished Glass (Sold per 24 Pack)


Jet Black 12mm Czech Fire Polished Glass (Sold per 24 Pack)


Sapphire 12mm Czech Fire Polished Glass (Sold per 24 Pack)


Ruby Red 12mm Czech Fire Polished Glass (Sold per 24 Pack)

Lt Rose 12mm Czech Fire Polished Glass (Sold per 24 Pack)


Lavender 12mm Czech Fire Polished Glass (Sold per 24 Pack)


Garnet 12mm Czech Fire Polished Glass (Sold per 24 Pack)


Cobalt 12mm Czech Fire Polished Glass (Sold per 24 Pack)


Amethyst 12mm Czech Fire Polished Glass (Sold per 24 Pack)


Lemon 12mm Czech Fire Polished Glass (Sold per 24 Pack)


Clear 12mm Czech Fire Polished Glass (Sold per 24 Pack)


Turquoise 12mm Czech Fire Polished (Sold per 24 Pack)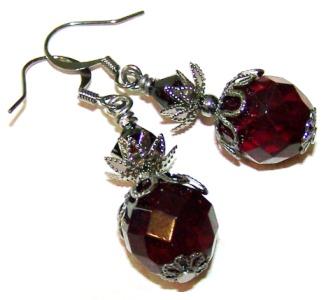 Metallic Silver 12mm Czech Fire Polished (Sold per 24 Pack)