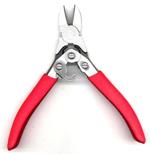 Heavy Duty Cutting Pliers

These great heavy duty cutting pliers will easily cut through all of your jewelry making wire, memory wire, head pins, and chain with no problems.  Multiple pivot points give these pliers extra cutting power with minimal effort.  The pliers also have a locking feature when not being used.  Enjoy years and years of use out of these great pliers!

The maximum cut allowed on these is 2.5mm - 10ga - 0.10in.

Heavy Duty Cutting Pliers (Sold Individually)