Bottom Clamp Bead Tips; End Crimp Caps, Cord Crimp Ends

Use Bottom Clamp Bead Tips to hide the ends of your wire, thread, or cord before attaching your clasp.  They have a hook on the end that you can close around the clasp instead of having your knot show.  Purchase in sample packs to the left or larger packs on the right.

Here is an enlarged picture of our Bottom Clamp Bead Tip to show greater detail.

Antique SP Bottom Clamp Bead Tip  (Sold per Pack of 100)

Gold-Plated Bottom Clamp Bead Tip  (Sold per Pack of 100)

Silver-Plated Bottom Clamp Bead Tip  (Sold per Pack of 100)

Antique Bronze Bottom Clamp Tip  (Sold per Pack of 100)

Antique Copper Bottom Clamp Tip  (Sold per Pack of 100)

Gunmetal Bottom Clamp Bead Tip  (Sold per Pack of 100)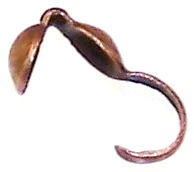 6x8mm Antique Copper Crimp Caps (Pack of 50)


6x8mm Antique Bronze Crimp Caps (Pack of 50)

6x8mm Antique Silver-Plated Crimp Caps (Pack of 50)



7.5x2.5mm Antique Copper Crimp End Caps (Pack of 100)


7.5x2.5mm Antique Bronze Crimp End Caps (Pack of 100)


9.5x3.5mm Antique SP Crimp End Caps (Pack of 100)

8x3mm Silver-Plated Crimp End Caps (Pack of 100)